Outshine May 17th!
•
05.06.13
Molly Thomason Lunchtime Concert at East Coast Music Week
•
03.18.13
Thank you to Halifax Musicphile for this nice little write-up and video of Molly Thomason at ECMA:
There were a number of pop up concerts during East Coast Music Week including one on Thursday at lunchtime by Molly Thomason. This one-hour show took place at Scotia Square and was organized by CBC.
Molly is a fantastic young singer/songwriter with 2 albums under her belt: Through The Static (2009) and Beauty Queen (2011). A third album is set to be released in the near future. Molly has also recorded a beautiful duet of "Never Felt A Thing" with Carleton Stone.
Molly currently resides in Toronto but returns to Nova Scotia as often as possible. I have had the good fortune of seeing her play numerous times and she is always impressive. She is one of the core group of young Nova Scotia artists that leave no doubt that the future of music in this province is in good hands.
To see her perform a new song "Audrey Mae", visit the Halifax Musicphile blog – click here.
ECMA was a blast!!!
•
03.13.13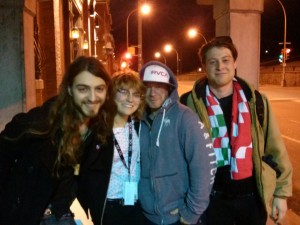 ECMA was a blast!!! It was so quick, but so fun. Very lovely to go and be touring around to familiar, smiling faces ALL the time. It was great to get home and see all my friends again, even if it was only brief. I got to visit my parents in their new house as well, and cuddle my dog and very fat cat, which was great.
I was so blown away by my band. I couldn't have asked for better boys. Erik Masson on guitar, Benjamin Weigensberg on drums, and Thomas Hoy on bass. They are all champs. And Thomas' first time playing with me was 3 days before our showcase! Amazing. I can't wait to do more shows with them. Speaking of that, CMW is coming up!! I'll be playing at the Central on Markham Street at 11 on March 21st. It's going to be a blast, I can't wait to get the place dancing. Hope you'll be coming out to rock on with us!
See you then,
Molly
Molly and Carleton Stone, "Never Felt A Thing"
•
03.12.13
Duets are a tricky thing for singers, they require a lot of confidence on both sides, and also a lot of trust. Each performer wants to be at their best, but they don't want to step on each other's toes.
Maybe that's why you don't hear them that often these days; everyone wants to come off like George Jones and Tammy Wynette, but wind up sounding like a couple of wrestlers trying to pin each other to the mat with their vocal chords.
Veterans of Gordie Sampson's Songcamp, Molly Thomason and Carleton Stone were friends long before they teamed up for Never Felt a Thing, and their voices dance around each other as they grow steadily closer, describing the rush of an instant infatuation with a love-is-a-drug metaphor borrowed from Roxy Music.
It doesn't hurt having Joel Plaskett on board as producer either. It almost plays like a song he'd do with the Emergency, but with some of the edges sanded down for a smooth pop concoction buoyed by a pair of personable and appealing performances.
by Stephen Cooke, The Chronicle Herald
CBC Searchlight Continues
•
03.05.13
•
02.26.13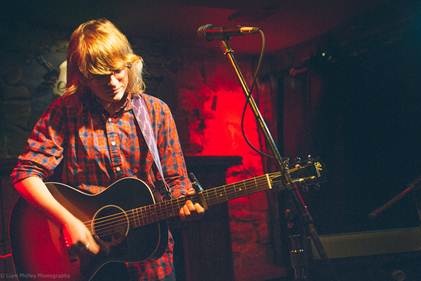 Well, February's nearly gone – is it almost spring yet? Almost? Can we start saying that?! I'm keeping the late winter blahs away with a show or two every week until the end of March, and then it really will be spring. You can check the gig list for a complete list of the dates, but I'm really looking forward to heading back to Nova Scotia for the ECMAs, and then some showcases back here in Toronto for Canadian Music Week!
The new record is done!! It was such a thrill to have Gordie Johnson on board for the mixing of this project and Howie Weinberg doing the mastering, the two of them have breathed a whole different kind of life into the songs, and I can't wait for you all to hear.
I've been busy at video shoots with Adrian Vieni of
www.woodandwiresproductions.com. Keep your eyes peeled for live videos of the songs from my new record. They'll be coming out soon, as a little bit of a sneak peak :) You'll be able to find them right here on my site, so check back!
And last, but definitely cool: the CBC Searchlight competition. Just heard that I got through to round two! – which is fantastic. So please go to the link below, listen and vote! Next, they'll be whittling down to five from our region, and I would love you all to put me in those five! I know everyone groans at the thought of more voting, but go on! It's easy! Just a little button push! And listening to some great music in the process! Here's the link – http://r3.ca/0Y0R
Thanks to everyone who has been listening and voting….and I hope I'll see you all at a gig someday soon!
Molly
CBC Searchlight lights up new talent
•
02.21.13
In their search for Canada's best new artist, CBC launched their Searchlight campaign, asking fans to vote for their favourite from a list of artists across the country.
You can vote for Molly Thomason to be Canada's best new artist by visiting the CBC Music website: http://music.cbc.ca/#/Searchlight-Mainstreet-Nova-Scotia and click Vote. You can also listen to one of Molly's brand new songs "Silence Don't Scare Me" from her upcoming album on the website.
The winning artist will be featured in a CBC Music video session, paid to perform at a high-profile music showcase in Toronto, and will receive $20,000 in music equipment courtesy of Yamaha Canada Music. Good luck to all the talented candidates taking part in the CBC Searchlight contest!
Molly Thomason at The Cadillac Lounge Tonight!
•
01.09.13
Molly is performing at The Cadillac Lounge tonight, January 9, in Toronto. The doors are at 7:00PM, start time is 9:00PM, $10 cover charge. Adam Jesin, The Heights and Danielle Knoll are also on the bill.
Thanks to the Toronto Star for choosing the show as your Toronto Concert Pick for today! Check out their posting on www.thestar.com
[Video] New Song "Hometown"
•
11.27.12
Check out this video, recorded by Analog Songs. Molly is singing a new song called "Hometown".
•
11.14.12
I've adjusted to Toronto really nicely and feel quite at home in the big city. This includes catching lots of amazing concerts; Regina Spektor, Mo Kenney, Crystal Castles, Sum 41, Bob Dylan, and that's just the beginning!! I was also lucky enough to play a really fun show at the Supermarket in Kensington to a full room! Toronto brings out great crowds :) If you want to come hang out, I'll be playing again on November 28th and I'd love to see you there.
As much as I love Toronto, Nova Scotia has been greatly missed. I was glad to head home this past weekend to catch the end of Nova Scotia Music Week. It was so nice to see all my friends again, and to catch a wicked showcase by Willie Stratton, as well as play at the gala with Carleton Stone!
During Nova Scotia Music Week I did a video with Analogue Songs of a new song called "Hometown". It'll be coming out on November 26th, so keep your eyes peeled! Analogue does great videos and I'm very excited for this one :)
I hope everyone reading this was left unharmed by Hurricane Sandy. I was in New York the weekend it hit and just barely made it out before everything was shut down. My thoughts are going out to folks who dealt with/are still dealing with the aftermath. I hope there are some tunes that help to get you through the day and keep you looking forward.
Right now I'm on a plane back to Toronto and I think I'm going to sign off and read for a little bit :) Hope to see some of you Torontonians on the 28th at the Supermarket!
Cheers,
Molly